Discover our range of glass keyboards.
Tactys manufactures exclusively glass keyboards, as their smooth surface offers the best aseptic effect. It is therefore a strategic choice for the company.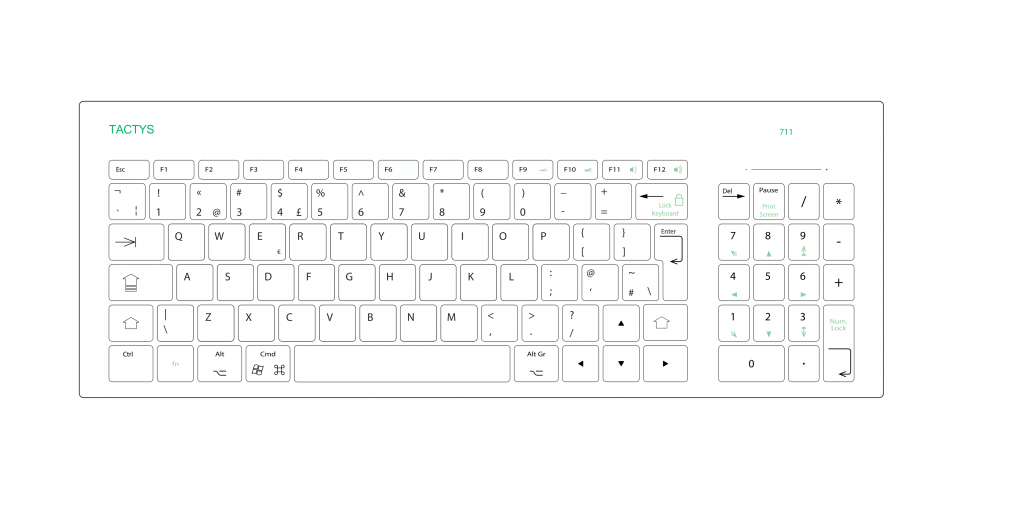 SLIM 711
Compact & ultra-resistant
96 keys
Numeric keypad
Tap/Top, Lock/in
Adjustable volume and sensitivity
Dimensions : 380 x 140 x 15 mm
179.00 €
Description
Specification
DOWNLOAD
Description
The SLIM 711 keyboards have a very good ergonomic design. Slim and slender (380 x 140 x 15 mm), they easily fit in a drawer or on a cluttered work surface. They can be usefully complemented with a waterproof wireless mouse MW118 or a mouse with cable MW108 (link to mouse product sheets). The TapTop function ensures comfortable typing (link to function). The Lockin function automatically locks the keyboard when it comes into contact with an object, so that it can be left on the work surface or on the trolley covered with documents to save space.
Specification
DOWNLOAD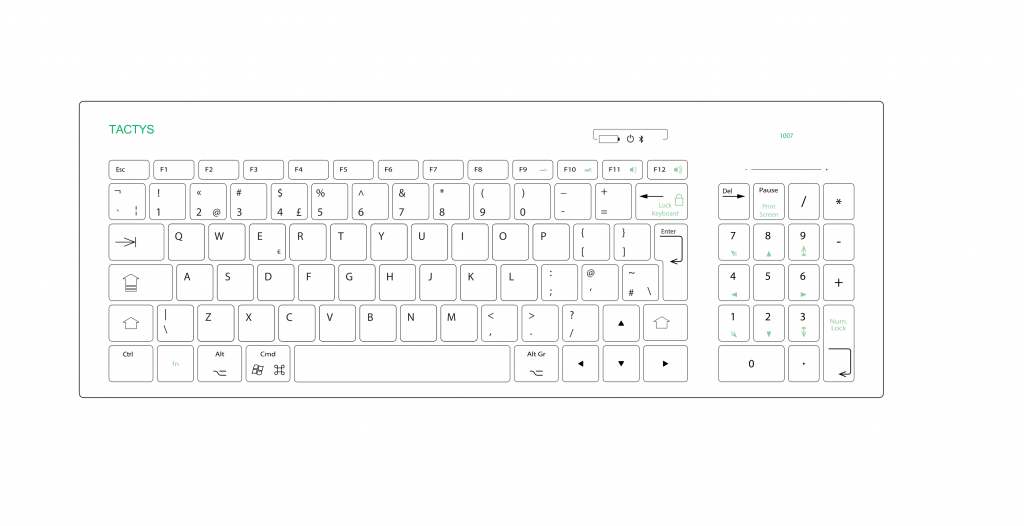 SLIM 1007
Wireless, compact & ultra-resistant
96 keys
Numeric pad
Tap/Top, Lock/in
Adjustable volume and sensitivity
Dimensions : 387 x 140 x 14 mm
299.00 €
Description
Specification
DOWNLOAD
Description
The SLIM 1007 is a wireless version of the SLIM 711 and combines autonomy, hygiene and comfort. The smooth surface is easy to clean with all chemical agents used in hospitals or clean rooms.
The SLIM 1007 has all the functions of the wireless range. Operating with a proprietary dongle-antenna, it is recognized without driver installation. It communicates using the secure Bluetooth 4.2 protocol. It can also operate in wired mode with a detachable USB cable. Although it is extra-flat (15 mm), it has an access hatch for replacing its lithium battery. This simplifie maintenance and optimises it's lifespan.
Specification
DOWNLOAD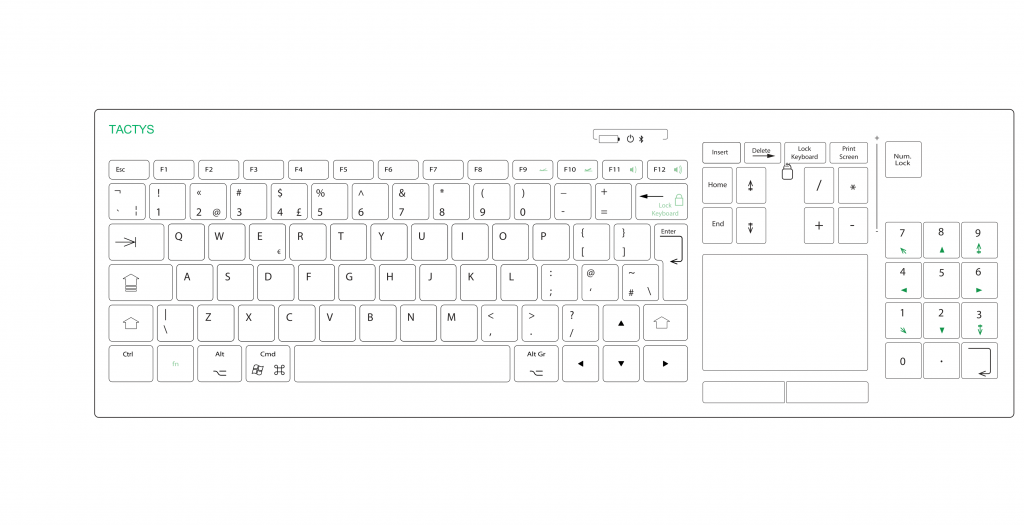 96 keys
XXL Touchpad
Numeric keypad
Tap/Top, Lock/in
Adjustable volume and sensitivity
Dimensions : 437 x 140 x 14 mm
249.00 €
Description
Specification
DOWNLOAD
Description
The model 823 is the largest of the TACTYS range, equipped with the touchpad as well as the numeric keypad, this model allows a complete autonomy in its use and will avoid the use of an external mouse for a totally aseptic configuration.
Specification
DOWNLOAD
Discover our range of waterproof medical mice.
Like keyboards, mice that are in constant contact with the hands can be vectors of germ transmission. Our medical mice are waterproof to ensure complete disinfection between uses. They are designed to be cleaned regularly and to resist disinfectants.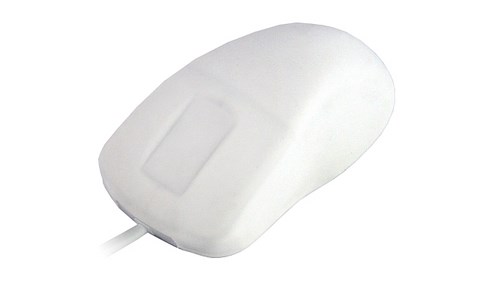 Mouse designed for a high level of protection and hygiene
Silicone casing with IP68 (total immersion) rating
72.00 €
Operating theatres, dental practices, laboratories, medical professions
Industrial applications :
Food industry, clean rooms, Wet or dirty environments, marine, etc.
Description
Specification
DOWNLOAD
Description
The WM68 is an aseptic, splash-proof and dust-proof medical mouse made of ultra-smooth, slot-free silicone. With all the features of a traditional mouse: right click, left click and scroll, durable and comfortable thanks to its ergonomic shape, the WM 68 optical mouse is the perfect complement to your TACTYS medical IT equipment. Plug and Play, Windows and Mac compatible, made of smooth and dense silicone, it is particularly adapted to clean environments. It can be cleaned regularly and disinfected with various chemicals, including alcohol.
Specification
DOWNLOAD
Wireless mouse with dongle – Plug & Play
IP68 – 

Made of silicone, easy to clean

Central wheel, 

standard right and left click

88.00 €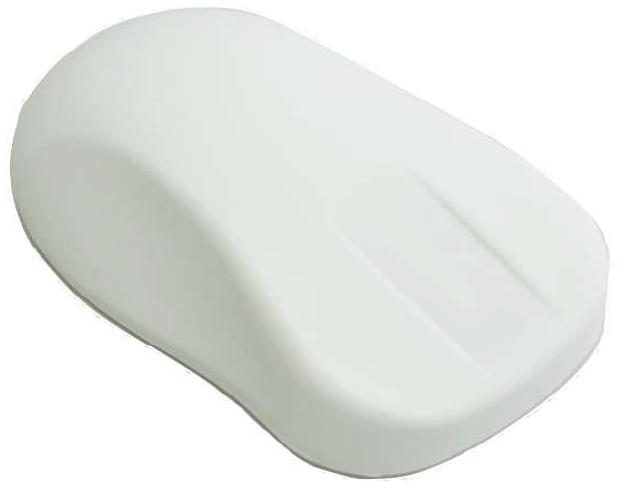 Description
Specification
DOWNLOAD
Description
The MW118 is a wireless PC mouse that is particularly suitable for hospitals, dental clinics, clean rooms in the pharmaceutical industry and laboratories. The silicone membrane protects against the penetration of germs and liquids. It allows for frequent cleaning.
It offers many advantages:
It allows for very precise cursor movement, right and left clicking and scrolling.
Ergonomic design for left and right-handed users
Self-supporting, seamless silicone membrane surface
Complete surface renovation by wiping disinfection
Degree of protection according to the IP68 standard for immersion cleaning and machine reprocessing
Suitable for a variety of hospital cleaning agents and surface disinfectants
Specification
DOWNLOAD
DISCOVER THE FEATURES OF OUR WASHABLE GLASS KEYBOARD
Designed for professional use, TACTYS keyboards offer unparalleled features in many respects.
The features of our touchscreen keyboards combine innovation, hygienic and design.
Tactys keyboards are intended for use on PCs or Macs running Windows, Linux or Mac OS and are computer peripherals that meet the usual specifications for keyboards. However, due to their special design, touch sensitivity and glass material, our keyboards have unique features developed by our electronics engineers to make them easier to use and more ergonomic.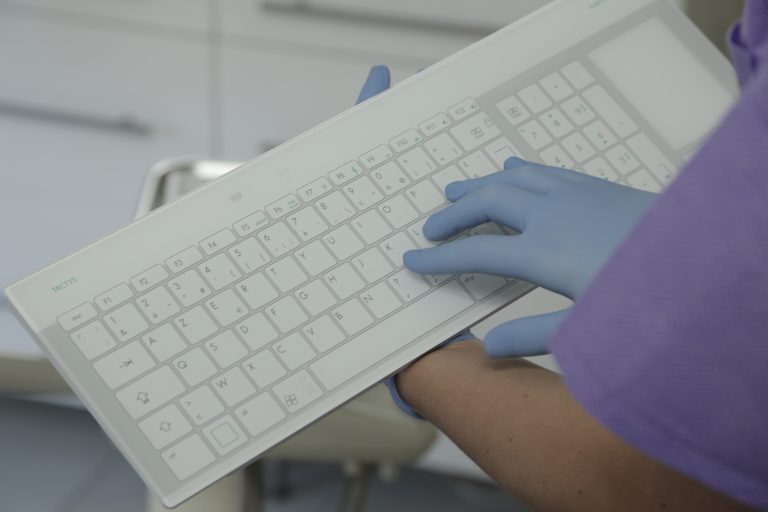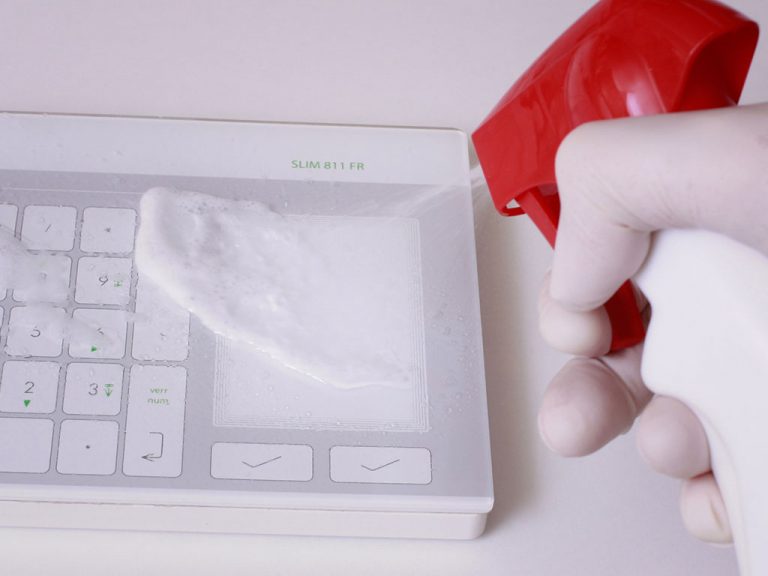 To enable this, a Lock/in function has been integrated into the keyboard. By combining the « Fn » key and the « Delete » key, the keyboard is locked (a red LED lights up) and the glass surface can be washed without codes being sent to the keyboard. Unlocking is done by repeating the same key combination. This process is fast and allows frequent cleaning of the keyboard. This locking function is also activated automatically when an object touches the keyboard.
The touch sensitivity setting has been designed to allow the use of gloves for even greater asepsis. Our smooth and tempered glass keypads are also waterproof to IP65 and resistant to all disinfectants.
The TapTop function facilitates touch input. TapTop indicates the key, even if the finger position is vague. + Typing on a flat, hard surface does not feel like pressing a key. An adjustable beep indicates when the key is pressed. Even with keypads, it can happen that touching two keys simultaneously with the finger triggers the printing of two characters on the screen. With the TAPTOP function, the touch keyboard automatically corrects the pressure on the keys and prevents the unintentional simultaneous pressing of two adjacent keys. It offers a smooth and precise typing experience.
Tapping triggers a beep to confirm the entry. The volume of this beep is adjustable and can be completely blocked.
Depending on the user and how they type on the keyboard, the touch sensitivity can be set to 5 levels. Some people will only want to touch the glass surface, others will press harder. The adjustable sensitivity allows everyone to adapt the keyboard to the intensity of their touch.
XXL touchpad – 78 x 45 mm with right and left click.
Description of the special keys
Tactys keyboards are available in many languages